Tag archives:
communication
By Matin Durrani
The cover feature of the August issue of Physics World, which is now out in print and digital formats, looks at the Sun – and in particular, at the consequences here on Earth of a "solar super-storm". As I point out in the video above, these violent events can disturb the Earth's magnetic field – potentially inducing damaging electrical currents in power lines, knocking out satellites and disrupting telecommunications.
One particularly strong solar super-storm occured back in 1859 in what is known as the "Carrington event", so named after the English astronomer who spotted a solar flare that accompanied it. The world in the mid-19th century was technologically a relatively unsophisticated place and the consequences were pretty benign. But should a storm of similiar strength occur today, the impact could be devastating to our way of life.
By James Dacey
Physicists today are faced with a multitude of options when it comes to accessing and sharing information with each other. Research collaborations are becoming increasingly international, bringing both opportunities and challenges with communication. There are ever-growing numbers of ways of accessing journal papers. And it seems that every other day sees the arrival of some shiny new social-media site for sharing and discussing the latest developments.
IOP Publishing (which publishes physicsworld.com) has teamed up with the Research Information Network (RIN) to try to improve our understanding of how information practices are changing in the physical sciences. You can help shape that understanding by taking our short survey. If you need a little sweetener, you will also be given the chance to enter a prize draw where you can win a $500 bursary to attend the academic conference of your choice. All in, the survey should take you about 10–15 minutes.
I caught up with Ellen Collins, a social researcher at RIN, to find out a bit more about what the project is designed to achieve.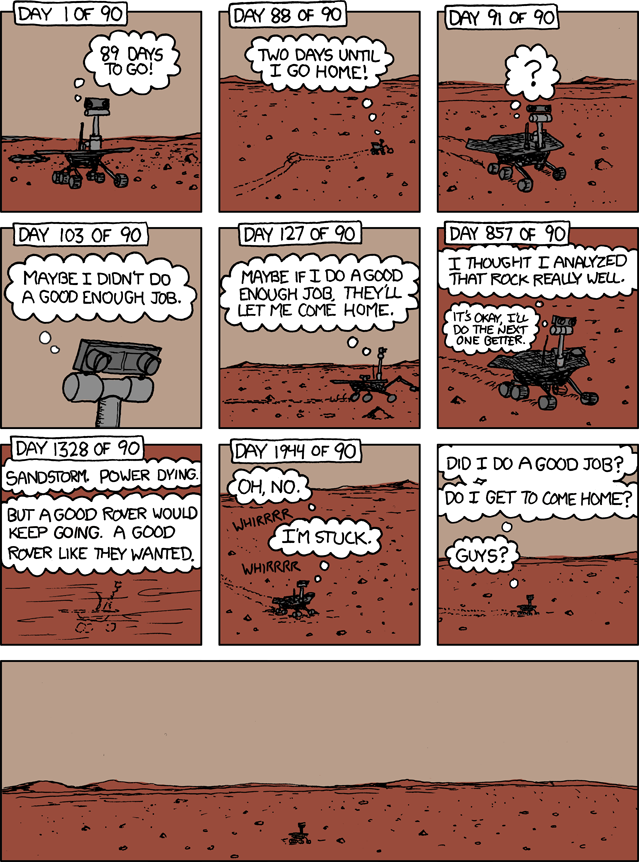 The "Spirit" comic strip on the xkcd.com webcomic (Credit: Randall Munroe/Creative Commons)
By Tushna Commissariat
The long and tumultuous journey for NASA's Mars rover Spirit has finally come to an end, as the space agency's engineers have ended attempts to regain contact with the vehicle, which has been out of touch since 22 March 2010. Now, Spirit's twin, Opportunity, will explore the red sands solo until the arrival of younger brother Curiosity – NASA's third rover, set to be launched in November.
The end of the road for Spirit came yesterday, when NASA engineers made a final and unsuccessful attempt to contact the rover. They had hoped that Spirit might rejuvenate as the solar energy became available once more, after a rather cold and dreary Martian winter without much sunlight. But without enough energy to run its survival heaters, the rover likely experienced colder internal temperatures last year than in any of its previous six years on Mars, possibly causing critical internal damage.
"Our job was to wear these rovers out exploring, to leave no unutilized capability on the surface of Mars, and for Spirit, we have done that," says Mars Exploration Rover Project manager John Callas of NASA's Jet Propulsion Laboratory in Pasadena, California.
Spirit landed on Mars on 3 January 2004 for what was planned as a three-month mission. After accomplishing its primary objectives, Spirit went on to explore a distance of 7.7 km, almost 12 times its initial goal. Spirit became the first robot to climb to the summit of a hill on another planet; and covered more than half a mile after its right-front wheel became immobile in 2006. Over time, it sent home more than 124,000 images, looked at 92 samples of soil and rock and unexpectedly discovered silica deposits in the Martian soil when it upturned soil due to a dragging back wheel. This was, ironically, one of the biggest discoveries made by a rover to date.
"What's most remarkable to me about Spirit's mission is just how extensive her accomplishments became," enthuses Steve Squyres of Cornell University, Ithaca, a principal investigator for Spirit and Opportunity. "What we initially conceived as a fairly simple geologic experiment on Mars ultimately turned into humanity's first real overland expedition across another planet. Spirit explored just as we would have, seeing a distant hill, climbing it and showing us the vista from the summit. And she did it in a way that allowed everyone on Earth to be part of the adventure."
Just in case you are about to shed a tear, you might enjoy the above image that Randall Munroe, a former physicist who is now behind the popular xkcd.com webcomic, drew sometime last year when contact was lost with the rover. A rather touching and prophetic image, he brings out the human side of our robot geologist.
Posted in
General
Tagged

communication, Curiosity, exploration, geology, Mars, NASA, Opportunity, rover, soil, space, Spirit, xkcd
Comments Off

on Goodnight, Spirit
|
Permalink
View all posts by this author
|
View this author's profile